Heute findet in London die Europapremiere zu BATMAN V SUPERMAN statt. Bei uns könnt Ihr Euch einen Livestream vom Roten Teppich mit Ben Affleck, Henry Cavill, Gal Gadot, Jesse Eisenberg, Amy Adams, Holly Hunter und Zack Snyder anschauen.
Die Ausstrahlung erfolgt von 19:15-20:00 Uhr unserer Zeit.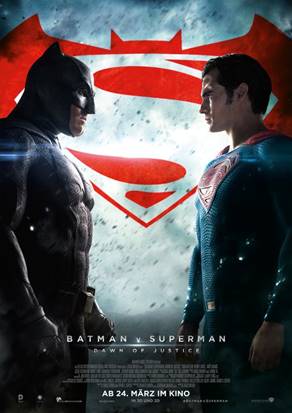 Zum Film:
Regisseur Zack Snyder ("Man of Steel") präsentiert BATMAN V SUPERMAN: DAWN OF JUSTICE mit Oscar®-Preisträger Ben Affleck ("Argo") als Batman/Bruce Wayne und Henry Cavill ("Man of Steel", "Codename U.N.C.L.E.") als Superman/Clark Kent in den Hauptrollen. Erstmals sind damit die berühmten Figuren gemeinsam auf der Leinwand zu sehen.
Jener überragende Streiter für Recht und Ordnung in Gotham City fürchtet, dass selbst die Aktionen eines gottähnlichen Superhelden außer Kontrolle geraten könnten, wenn er nicht ständig beaufsichtigt wird. Deshalb legt er sich jetzt mit dem meistverehrten modernen Retter in Metropolis an, während die Welt darüber streitet, welche Art Helden sie eigentlich braucht. Und da Batman und Superman nun einander bekämpfen, taucht unversehens eine neue Bedrohung auf, durch die die Menschheit in brisante Gefahren von ungeahnten Ausmaßen gerät.
BATMAN V SUPERMAN: DAWN OF JUSTICE startet am 24. März 2016 in den deutschen Kinos.