Darum geht's im Netflix-Film THE MIDNIGHT SKY
Im Mittelpunkt dieser postapokalyptischen Geschichte steht Augustine (George Clooney), ein einsamer Wissenschaftler in der Arktis. Er versucht verzweifelt, Sully (Felicity Jones) und ihre Astronautenkollegen daran zu hindern, nach Hause zurückzukehren, denn die Erde hat eine mysteriöse globale Katastrophe erlebt.
Neben der Hauptrolle übernahm Clooney die Regie dieser Verfilmung von Lily Brooks-Daltons gefeiertem Roman "Good Morning, Midnight." In weiteren Hauptrollen sind David Oyelowo, Kyle Chandler, Demián Bichir und Tiffany Boone zu sehen.
Hier kommt der Trailer…
Kommen wir nun zur Filmkritik als Microfazit (Audio)…
Meine Einschätzung zum Film THE MIDNIGHT SKY könnt Ihr Euch in meinem Microfazit anhören. Der Film startet in Deutschland aber auch weltweit am 23. Dezember 2020 auf Netflix:
Ich finde den Film nicht rund. Das größte Problem ist, dass George Clooney nicht nur Hauptdarsteller sondern auch Regisseur ist. Der Film ist eben genau so dreht: Für sich selbst. Die anderen hochkarätigen Nebendarsteller kommen nicht an ihr Potenzial und bleiben einfach Beiwerk.
Das weitere Problem ist aber auch, dass der Film unterkühlt, distanziert und unemotional erzählt wird. Die ganze Nummer hat für mich weder Hand noch Fuß!
Fazit: Daher gibt es leider nur 4 von 10 Goldblums
Für die detailliertere Kritik, hört einfach ins Microfazit!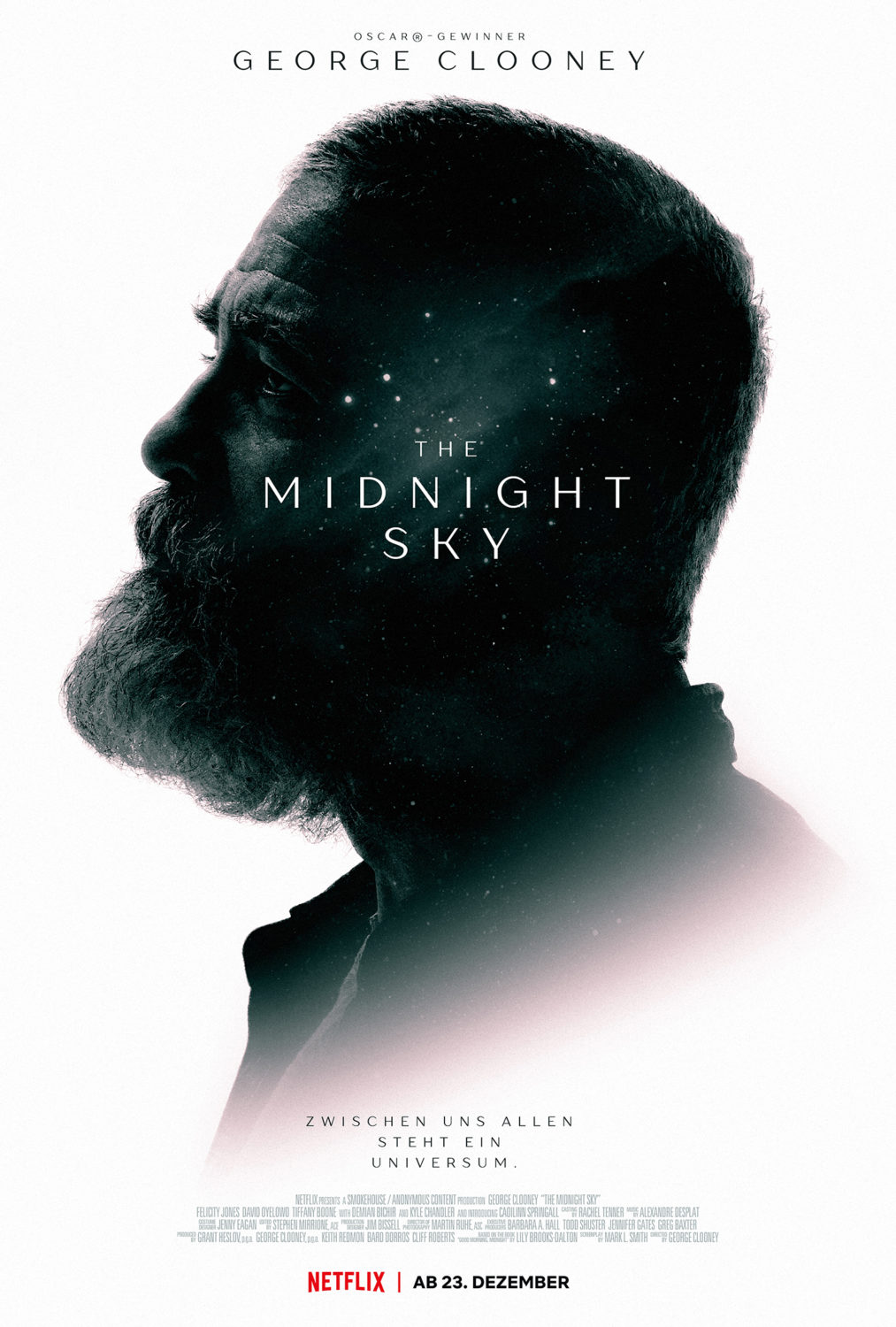 Weltweiter Start auf Netflix am 23. Dezember 2020
Regie: George Clooney
Drehbuch: Mark L. Smith
Buchvorlage: Lily Brooks-Dalton
Ausführende Produzenten: Barbara A. Hall, Todd Shuster, Jennifer Gates, Greg Baxter
Produzenten: Grant Heslov, p.g.a., George Clooney, p.g.a., Keith Redmon, Bard
Dorros, Cliff Roberts
Kamera: Martin Ruhe
Szenenbild: Jim Bissell
Kostüm: Jenny Eagan
Schnitt: Stephen Mirrione
Musik: Alexandre Desplat
Besetzung: George Clooney, Felicity Jones, David Oyelowo, Tiffany Boone, Demián Bichir, Kyle Chandler, Caoilinn Springall